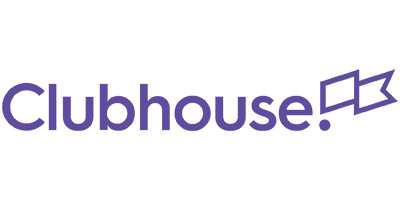 Clubhouse is a social networking app that provides a platform for audio-based conversations. Users can join virtual rooms where they can participate in discussions, listen to speakers, and interact with others using only their voices. Unlike other social media platforms, Clubhouse focuses solely on audio interactions, allowing users to engage in real-time conversations on various topics.
Key features of Clubhouse:
Audio Rooms: Users can create or join audio rooms dedicated to specific topics, hobbies, or interests.

Speakers and Listeners: In each audio room, there are speakers who lead the conversation, and listeners who can raise their hands to contribute.

Exclusive Invites: Clubhouse initially operated on an invite-only basis, adding an element of exclusivity to the platform.

Networking Opportunities: Clubhouse provides a space for professionals and enthusiasts to connect and network within their industries.

Live Conversations: The app enables live, unscripted discussions that can be educational, entertaining, or informative.
Clubhouse gained popularity quickly due to its unique audio-focused concept, allowing users to engage in meaningful conversations with people from around the world.
Promotion on Clubhouse refers to active measures to increase the visibility, popularity, and engagement of your profile and rooms on the platform. It includes various strategies and tactics aimed at attracting more followers, increasing room attendance, enhancing audience engagement, and strengthening your authority within the Clubhouse community.
Why is it beneficial and necessary to promote on Clubhouse? Here are a few reasons:
Audience Growth: Clubhouse promotion allows you to attract more followers, increase room visits, and expand your target audience. This creates opportunities for wider dissemination of your content and increased influence.

Establishing Authority: Through active promotion, you can become a recognized expert in your field or niche, which enhances your reputation and audience trust. This helps draw more attention to your rooms and content, and contributes to the development of professional opportunities.

Networking Opportunities: Clubhouse provides a unique opportunity to build connections and network with other participants. Promotion helps draw attention to your profile, leading to the expansion of your contact network, participation in interesting dialogues, and collaboration possibilities.

Enhancing Brand Awareness: Active Clubhouse promotion increases awareness of your brand, company, or project. You can use the platform to showcase your products or services, conduct marketing campaigns, and connect with your target audience.

Early Access to New Opportunities: Clubhouse is still in a growth and development stage. Quick promotion allows you to be among the first to take advantage of new features and opportunities that may arise in the future.
Overall, promoting on Clubhouse offers the opportunity to develop your profile, connect with interesting people, and attract more attention to your content. It's an excellent platform for self-expression, professional development, and building valuable connections in the social network, which continues to gain popularity.
Clubhouse promotion ▪️ the clubhouse ▪️ tree house club house ▪️ clubhouseapp ▪️ the club house ▪️ club house near me ▪️ club house fun center ▪️ golftec clubhouse ▪️ aaa clubhouse ▪️ colby's clubhouse ▪️ pathway clubhouse ▪️ stripe clubhouse ▪️ клабхаус ▪️ клабхаус в гта ▪️ клабхаус онлайн ▪️ клабхаус гта онлайн ▪️ клабхаус серый ▪️ клабхаус gta ▪️ дуб клабхаус ▪️ задания клабхауса ▪️ клабхаус скачать ▪️ дуб клабхаус серый